Honoring the Brave: The Petaluma Veterans Day Parade
Nov 08, 2023
Northern California's Biggest Veterans Day Parade
Every year on November 11th, the charming and historic town of Petaluma comes together to put on the largest Veterans Day Parade in Northern California; uniting the community in both gratitude and remembrance for the brave men and women who have served and continue to serve in the United States Armed Forces. The patriotic atmosphere fills the air as veterans, active-duty service members, and their families, accompanied by local community groups and schools, join in on the local tradition.
About The Parade
The Petaluma Veterans Day Parade has a rich history, tracing back to 1967. It all started when veteran Julius Forcucci and two of his World War II comrades proudly walked the parade route together. Over time, more veterans joined in, marching side by side and proudly carrying the American Flag. Fast forward to today, the town of Petaluma eagerly anticipates a remarkable turnout of 40,000 parade attendees and over 2,000 participants.
For veterans like Corporal Calvin Wong, who served on the front lines and didn't expect to come back alive, the Petaluma Veterans Day Parade holds special significance. It is a day for him to celebrate and reflect on his service, surrounded by a grateful community.
Special Salute to Iraq & Afghanistan Veterans
This year's theme is Salute to Iraq & Afghanistan Veterans, and in true celebration spirit, parade goers will experience exciting live music, exquisite floats, and heartwarming recognitions to the Iraq/Afghanistan Veterans. During the parade, veterans of different generations will be graciously imparting their invaluable experiences, a special opportunity for community members to reflect on the daily freedoms they enjoy; all thanks to the bravery of our veterans.
The parade is family-friendly and open to the public. From the live music to the festive atmosphere, this event is a testament to the gratitude and support that the community of Petaluma has for its veterans. Community members are encouraged to participate and show their appreciation for our veterans.
Parade Route
Starting at 12:00 pm, live music will be played in the gazebo at Walnut Park (D Street and Petaluma Blvd.). The parade route starts at 1:00 pm at Walnut Park on "D" Street, and will end there as well. The parade itself will showcase various entries and floats, with each one representing a different aspect of our armed forces and the sacrifices they have made. At 2:45 pm, parade goers can join in on the Prayer, Pledge of Allegiance, and more live music in the gazebo.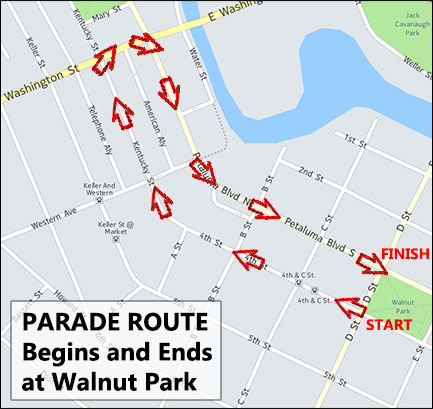 More information about the Petaluma Veterans Day Parade and its mission can be found on their website at https://petalumaveteransparade.com/. This website provides details about the parade, including the parade route, special recognitions, and registration information for those who wish to participate.
Show your support for our veterans by flying a real American flag made from 100% homegrown cotton in the country that we love!